Humanity at the heart of every

project

.
We try to integrate sustainability, technology, and social purposes in our strategies in order to drive real culture change. We are of the opinion that as designers we need to change the mentality of "beautiful" and "economical" work, to include a better understanding and strategy to slow down the negative impact that design has on our planet.
We are also aiming to get the B Corporation certificate within this year.

It is an eco-friendly design process to transform your brand to be more ecological and more economical.
We can achieve this through different techniques, like redesigning your logo by choosing eco-friendly colors and thinner typography in order to minimize the amount of ink. Choose recycled paper, if printing is really necessary.

Social & environmental projects

We use to have every 2 weeks our Friday Lab. It is an internal workshop where everybody can come up with ideas around environmental and social value. We brainstorm ideas beyond traditional design projects because we believe that as designers we have a role in social development and climate change. We have a lot of fun during these sessions, it is less funny to find institutions afterwards to help us to make our dreams come true ;).

Responsible UX & UI design

You can reduce server space, limit energy consumption, etc... by using different techniques. Dark mode (dark theme or night mode) reduces the light emitted by device screens so that it reduces eye strain, it can save battery on OLED screens. Use less images or better optimized images. The use of light icons or thin typographies can make a difference...

Digital brochures, QR codes & AR solutions

In order to print less and given the actual health situation that we live in, we are pushing the creation of interactive magazines. A more engaging communication format which makes it possible to reach a wider audience without excluding print lovers. Through QR codes & Augmented Reality solutions, we can have fun making the content much richer, creating animations, integrating video, etc ...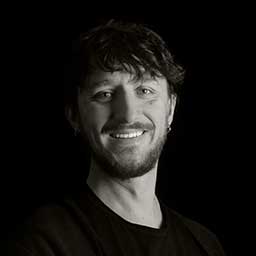 ... through our eco-responsible creative studio, we have set up a system, where for each new project signature, we commit to planting trees for our clients..."
Nicholas

-

Creative Partner
Trees planted

15thousand
14895 trees planted since 2019.
Compensation

1thousand
1525.22 t of CO2 captured since 2019.